Persona. Image. Time. Human Representation in Art: from Modernism to the Present-day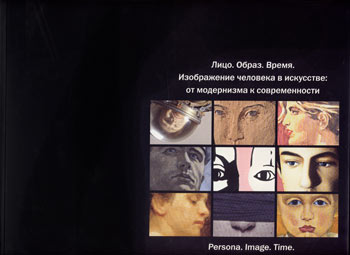 "Persona. Image. Time. Human Representation in Art: from Modernism to the Present-day" is the second exhibition of works from the Ekaterina Cultural Foundation founders' private collection, held within the framework of the Moscow Biennale of Contemporary Art (the first exhibition was entitled "Movement. Evolution. Art"). For the opening of the exhibition which took place in September 2009 a catalogue both in Russian and in English had been published. The catalogue reflects the main concept, content and the structure of the exhibition.
The exhibition covered the period from the end of the 19th century through the early 21st century. It was distinguished by a broad coverage and diversity of the exhibits. The exhibition organizers and catalogue compilers did not intend to show all the areas of fine art referred to human image at that period of time. The exposition and the catalogue are meant to showcase the brightest and most interesting phenomena in Russian and foreign contemporary art, as well as the changes of the artistic approach in interpreting human image and human face.
The catalogue reproduces the exhibition thematic divisions, which implies certain chronological periods: "From Academia to Modernism", "From Avant-garde to the Soviet Art", "Image of Man in the Era of Mass Media and Globalization".
The artworks of Russian contemporary artists made the dominant part of the catalogue; but there are also foreign stars of contemporary art from Ekaterina and Vladimir Semenikhin's private collection.
The catalogue includes the works of the following artists: Henrik Siemiradzky, Ilya Repin, "The Knave of Diamonds" members, Niko Pirosmani, the Avant-garde Amazons Varvara Stepanova and Lyubov Popova's works, the artworks of Eric Bulatov, Oleg Vasilyev, Vladimir Yankilevsky, Ilia Kabakov, Victor Pivovarov, the artists of Soc-art, "Blue Noses" group, Vladimir Dubossarsky and Alexander Vinogradov, Sergey Shekhovtsov, Dmitry Vrubel, Oleg Kulik, Pierre et Gilles, Stephan Balkenholl, Jake and Dinos Chapmen and many other.