A Feast of Wonders: Sergey Diaghilev and the Ballets Russes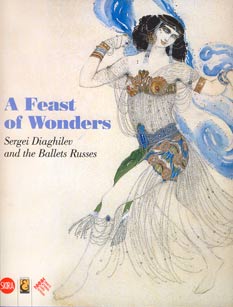 In 2009, the Ekaterina Cultural Foundation in cooperation with the New National Museum of Monaco and with the participation of the State Tretyakov Gallery presented a large-scale international exhibition as part of the culture-promoting project devoted to the 100 anniversary of Sergey Diaghilev's "Russian Ballets" in Paris.
The publication of the catalogue "A Feast of Wonders: Sergey Diaghilev and the Ballets Russes" in English, Russian and in French is a highlight of the project. The content of the catalogue summarizes the content of the two unique exhibitions, demonstrated this year in Monaco and in Moscow.
The catalogue presents the history of the Russian Ballet Seasons in full wealth of features and details; its structure is follows the chronology in the stages of development of the "Ballets Russes". Each stage corresponds to the preparation and premiere of the next ballet, and was marked by involving new and emerging great painters and designers into the process of the ballet production. "Ballets Russes" were notable for their phenomenal dynamizm. They were going through a complete change of trend many times: from classical ballets, through oriental style to the Russian theme and, finally the avant-garde productions.
This entertaining process of stages and trends changing finds reflection in the catalogue. It includes more than 500 masterpieces by famous French and Russian painters, such as L. Bakst, A. Benois, N. Goncharova, M. Larionov, G. Braque, H. Matisse and the others. The catalogue includes designs of costumes and scenery, paintings and drawings as well as photographs demonstrating the talent and the unbelievable scenic performance of "Russian Balletts" soloists. For the first time the catalogue encompasses the works provided by museums and private collections from different countries of the world.
The compilers managed to make the catalogue an entertaining reading. Creativity in presenting illustrations enabled them to use various imaginative ways to show costumes, theatrical designs and other artistic objects.
The catalogue will be of interest to a wide range of readers; it is also meant for art connoisseurs and specialists as a major contribution to the preservation of the "Ballets Russes" cultural heritage.
The catalogue "A Feast of Wonders: Sergey Diaghilev and the Ballets Russes", edited by John E. Bowlt, Zelfira Tregulova and Nathalie Rosticher Giordano is published in 2009 by the SKIRA Publishing House.