The Catalogue "RUSSIA!"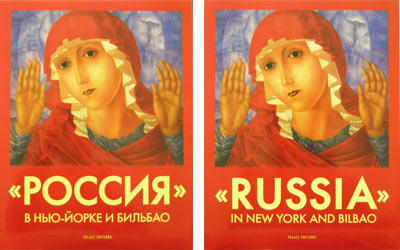 In 2005 - 2006 The Ekaterina Cultural Foundation took part in the exhibition "Russia!" held in the Solomon R. Guggenheim Museum in New-York and Bilbao. This project has proved the most overwhelming presentation of Russian Art to the American or European public.
A catalogue of this exhibition was published by the "Palace Edition" Publishers in Russian and English. The volume includes chapters on Ancient Russian Art, Russian painting, the Avant-Guard and modern Russian Art, covering respective parts of the exposition in the Solomon R. Guggenheim Museum.