Catalogue of Victor Alimpiev's Personal Exhibition "Whose Is This Exhalation?"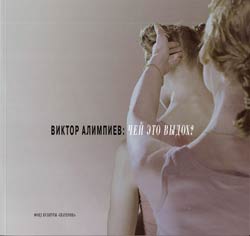 Ekaterina Cultural Foundation presents the catalogue of Victor Alimpiev's personal exhibition "Whose Is This Exhalation?" The publication of the catalogue coincided with the opening of the artist's first solo exhibition held at the Foundation from May, 29 to July, 28. Victor Alimpiev is one of the leading young artists exploring both painting and video art techniques. His videos, mysteriously understated and full of elevated aestheticism, have gained recognition both in Russia and abroad.
The exhibition presents Alimpiev's art in a retrospective, moving from earlier works to the latest and is based on a dialogue between video art and painting. Published in two languages, the catalogue not only conveys the exhibition's structure, but also complements the illustrations with interviews, comments and articles dedicated to Alimpiev's work.
The author of the foreword in the catalogue is Massimiliano Gioni, a well-known art historian and critic, curator of the New Museum of Contemporary Art in New York. The catalogue includes an interview with Alimpiev taken by Anatoly Osmolovsky, one of the foremost theoreticians and "practitioners" of Russian contemporary art. During their lively conversation, Alimpiev's work is being thoroughly analysed and placed in the context of modern culture.
The catalogue provides the most comprehensive overview of Alimpiev's work, both in painting and video art. It includes paintings from the artist's most prominent series: We Are 10,000. We Are More Than 10,000 (2004), Thrown Banners Look Like an Arable Land (2005), Edge of a Banner (2007), Edge of a Field (2007) and Plait (2007). Video art works are presented in the catalogue as a series of chosen frames, placed in chronological order. The catalogue includes well-known works, such as A Few Presents for Oleg (1997), Ode (2001), Deer (2002), Summer Lighting (2004), as well as the brand new Whose Is This Exhalation? (2007), after which the exhibition is named.