The "Tretyakov Gallery" magazine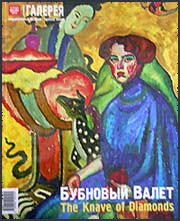 On the initiative of the Ekaterina Cultural Foundation a special issue of the "Tretyakov Gallery" magazine has been published. It is fully devoted to the "Knave of Diamonds" exhibition the opening of which took place on February, 1, 2005.
The publication includes unique materials and illustrations selected by the State Tretyakov Gallery experts. Texts about the Group of artists precede three introductory articles covering the "Knave of Diamonds" exhibitions in Monaco, St. Petersburg, and a new version of the project realized in Moscow. The special issue of the magazine also presents articles by such authorities on the subject of Russian art, as Gleb Pospelov ("ON KNAVES OF DIAMONDS AND HEARTS") and Irina Vakar ("EAST, NATIONALITY AND WEST"). A kind of historic is said to be Victor Midler's publication about the last (of that epoch) exhibition of the "Knave of Diamonds" art taking place in the Tretyakov Gallery in 1927. The visual commentary to the articles is provided by delicately chosen illustrative material including rare photographs and works of western masters whose influence on Moscow painters of the beginning of the XX-th century proved to be so beneficial.