"The Moscow Times. Context", January 26, 2009
Salakhov's 80th Allows for Rare Retrospective
By Max Seddon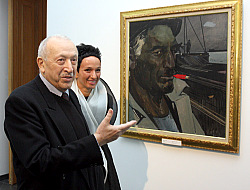 Out of all the artists who came of age under the Soviet Union, few can lay claim to the stature, and perhaps none to the astonishing personal story, of Tair Salakhov. Now with the 80th anniversary retrospective of over a hundred paintings and drawings at the Ekaterina Cultural Foundation, his ascendance seems to be continuing ever further.
Though Salakhov is by some distance the most-decorated figure in Russian art, this is the first time his best works have ever been exhibited together. His daughter Aidan, owner of Russia's first private gallery and a well-known artist in her own right, curated the exhibition with the intention of giving her father's art the showing it deserved.
"When I was little, I thought he'd had exhibitions in Moscow, and it turned out he hadn't," she explained in an interview. "So I went to Baku and looked over the whole collection - it was beautiful but in terrible condition. We helped the Azeri museum to restore everything."
It's difficult to overstate just how far Salakhov has come. His father was arrested in 1937 for supposed membership of a "counter-revolutionary Trotskyite-Zinovievite bloc." Even though he was rehabilitated during Khrushchev's Thaw "in light of the absence of crime in the act," this black mark barred his son from the USSR's top art schools and a scholarship trip to India.
Undeterred, Salakhov returned to Baku and founded the first major break from the rigid Stalinist doctrine of Socialist Realism - the "severe style." Instead of the former's bright, quasi-classical "girl-meets-tractor" paintings, Salakhov chose to depict ordinary people in a manner closer to 19th-century European modernists like Cezanne. As he explained in an interview with ArtChronika magazine, this simply seemed like the logical approach.
"Life itself thought it up. Severe realism was an answer to the shallow and showy Stalinist art of the 1940s and 1950s. After the death of Stalin, huge changes took place in the lives of Soviet people, a new substance appeared, and, as Mayakovsky said, new substance should be met with a new form. My goal was to find one such new form."
So while works like "The Shift is Over," painted only in shades of gray to prove a point to a classmate, appear stark enough now, in 1957 they were nothing short of revolutionary. This invited equally severe criticism even as the USSR supposedly liberalized following Stalin's death - Salakhov was even forced to hide the massive sci-fi piece "To You, Mankind!" from an artistic pogrom in the Manezh Central Exhibition Hall.
But he refused to change his style. "Even after that kind of criticism," he said, "I never changed myself, never painted anything that wasn't as I saw it with my own eyes." Before long, his work was conferred the honor of representing the USSR at the Venice Biennale and eventually the status of modern classics. By the early 1970s, he was thought of as a leading representative of Soviet art and held senior positions in the Soviet Academy of Arts.
"It's no surprise that the energetic manner of Salakhov's painting turned out to be the principal style of official Soviet art in the Brezhnev era," wrote Kommersant art critic Milena Orlova. "We can thank maestro Salakhov that that era had any style at all."
An official Soviet artist, however, Salakhov was not. Keenly attuned to new developments in contemporary art, he used his newfound influence to protect Russian nonconformists like Ilya Kabakov and Oscar Rabin from repression. Under perestroika, he organized several state-funded exhibitions of major Western artists, the likes of which Moscow has not seen since. Meeting Salakhov remained with the late Robert Rauschenberg in particular for the rest of his life.
"There was a dinner in Miami in honor of Rauschenberg organized by Bulgari," Aidan recalled. "It was the first time I'd seen him since -- 15 years later. I thought he wouldn't recognize me or remember me. But he remembered every day spent in Moscow, said how much he loved Tair and started crying - he was overcome with emotion. So the next day, I put them over the phone and they started talking. My father doesn't understand English, but they talked for 15 minutes. I don't know how they did it. They had this kind of internal contact. It was unbelievable."
In the last 10 years, Salakhov has continued to develop his art. His later works are notable for their freer composition and brighter, more expressive colors. Some of them, including his Cubist portrait of cellist Mstislav Rostropovich and the triptych "The Country of Lights," which closes the exhibition, are among his best paintings outright.